How much is my old book worth?
Before selling or giving away old books, check out their value first. Some books may be of worth a lot!
With a little research and utilizing links to rare book websites, you can get an idea of your old book's value. The information below can help you in that direction ...



AddAll used books
One of my favorite sites for gauging marketability of a book.www.AddAll.com
Amazon
Supports a huge marketplace of used book dealers on their site. www.Amazon.com

AbeBooks.com
Buy books from the world's largest online marketplace for books. www.AbeBooks.com

Ebay.com
eBay closed auctions is a great to find out what your title has sold for. www.ebay.com
What's the difference between a First Edition and a First Printing?


When a book is sold for the first time, that is called the book's "first edition." Quite simply, it is the initial printing of a book (after the book proof/advance copy).

Technically the phrase "First Edition" consists of the first printing plus any additional printings of the same first edition. When there is enough new information to warrant updating the book, a revised Second Edition may be published. This is often the case with non-fiction books such as text-books.

To a book collector the phrase "First Edition" refers to a book that was released during the first printing of the "First Edition" (they call this book a "1st/1st"). A 1st/1st is what collectors are looking for. A popular book may have had dozens of additional printings causing its first printing to be the most valuable. For example Harry Potter books are phenomenally popular and each have been reprinted dozens of times to meet demand. The first printing of each Harry Potter novel is the most sought after and valuable.

Here are sites to research the market of a book. These links will give you a sense of what sellers are asking and how many copies are available. Keep in mind the condition of your book and its edition (First printing, later printing, etc.)

AddAll used books

.

No-frills. One of my favorite sites for investigating the marketability of a book. This site allows you to sort your results in several different ways by Author, by Title, by Value, etc.



Amazon

supports a huge marketplace of used book dealers on their site.



eBay.com

searching eBay closed auctions is a great to find out how much your edition has sold for.



Check out Amazon.com's large selection of

price guides for rare and collectible books here

.

How can I tell if a book is a first printing?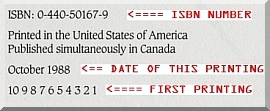 The picture at left shows a portion of the Copyright Page in a book that was published in 1988. The ISBN is at the top, under that is the location of printing, (United States and Canada), under the location is the Date of printing "October 1988". On the bottom is the number line that counts down from 10 to 1. The presence of "1" on the low end of the number line indicates that this book is a first printing.


What to look for: For many years books simply stated "First Edition" on their Copyright Page. On older books printed before the advent of ISBNs (about 1968), check whether your copy was printed the same year the book was first published. (For example since The Old Man and the Sea was first published in 1952, a copy from 1965 cannot be the first edition). Newer books, those printed after 1968 or so, may also have a number sequence printed on the Copyright Page that determines its printing history. A number sequence that has a "1" at the end such as "10 9 8 7 6 5 4 3 2 1" indicates a first printing. But, if the lowest number showing is 2, such as "10 9 8 7 6 5 4 3 2" then the book is a second printing .. and so on. Be aware that there are a few publishers in the habit of printing later printings without removing the "First Edition" statement (yikes!). In books printed after 1968, look at the number line for the actual printing history. To a collector, books that state "First Edition" on their Copyright Page but have number lines missing the number "1" are not first printings.


Since the number line method wasn't widely used until the 1980s, you may well find books older without one. Luckily, there are other ways of telling if your book is a first edition.

Before anything else you should check to see if the book has 'First Edition, First Printing' written inside the cover. If so, you've got pretty irrefutable evidence. If not, take a look at the dates in the book. If the date of first publication doesn't match that of your edition then you're out of luck. If it does match then it might be a first edition - but bear in mind that successful books will have more than one print run a year.

And then, of course, there's the trusty old Internet. Try searching for your book online, possibly with the words 'first edition' attached. You may well find the information that you need. In stubborn cases, identification may come down to a crucial error or tiny variation in cover design.

There are a few exceptions to the above guidelines plus many unconventional ways different publishers may indicate first edition. For instance in the book First Editions: A Guide to Identification by Edward N. Zempel more than 1,700 different publishers and their ways of designating a First Edition are listed - most follow the above guidelines, but there are many that have a unique way of designating a first edition. For further help in discovering and deciphering the various ways publishers may indicate a first edition, see the list of reference books at the bottom of this page.

What is the value of a first edition in top condition? Many first editions of collectible books have value. Read more about it here.

What is the value of second or later printing of a hard-cover book in top condition? To a collector or dealer probably very little - there is not much of a buyers market for later printings of current authors. On the other hand, if you have a copy in top condition of a current bestseller - it may have value as a reading copy - perhaps 10% to 50% of its cover price. Also, some second printings may have value simply because the first edition is so very expensive - for instance, second printings of early Harry Potter novels may hold 5% to 25% of the first printing's value.




How can I tell if my book is a Book Club Edition?

Book of the Month Club (BOMC) books and other editions released by book clubs are not usually candidates for a first edition. Except for a few exceptions, you can be fairly certain that if you have a Book Club Edition it is not a first edition.

What to look for: Open the book and look at the inside flap of the dust jacket; if you're lucky, your book may identify itself there as a Book-of-the-Month-Club selection or a book club edition Also, most book-club editions do not have a price printed on the inside front flap of the dust jacket. Now look at dust jacket at the back of the book ... if you see a small white rectangle box with five numbers instead of a bar-code and ten-digit ISBN number you have a book-club edition. Now take off the dust jacket and look at the back board on the lower right corner by the spine; many Book-of-the-Month Club editions have a very small indented mark there.

Here is a quick run-down of how to identify book-club editions: No price inside front flap and/or no ten-digit ISBN number on the back of the dust jacket and/or there is a small indented spot on the back of the book. If your book has one or more of these clues, you can be fairly certain you have a book-club edition. Exception Alert! Some books produced by Universities and small presses have no price on the jacket.

What is the value of a book club edition in top condition? As a collectible probably very little - there is not much desire from collectors or dealers for club editions. On the other hand, if you have a book club edition in top condition of a current top-ten bestseller - it may have value as a reading copy - perhaps 10% to 50% of the trade edition's cover price.

ReprintsFrom the mid-1800s through the mid-1900s books by popular authors such as Edgar Rice Burroughs, Mark Twain, William Shakespeare or Charles Dickens were often reprinted by the boat load. Grosset & Dunlap published mountains of reprints in the early 1900s. Some other publishers that printed reprints are A.L. Burt, Cupples & Goldsmith, Sun Dial, Saalfield, and Triangle.

What to look for: Compare the publisher's name printed on the Title Page and to the publisher's name listed on the Copyright Page - if the book lists two different publishers, the book is probably a reprint. For example: a reprinted copy of Edgar Rice Burroughs "The Beasts of Tarzan" states "Grosset & Dunlap, Pub." on the Title Page, but states "Copyright A. C. McClurg & Co, 1916" on the the Copyright Page.

Yes, I have a reprint copy hard-cover book in top condition, what is it worth? A collector of the author or someone who wants a reading copy of a classic work may pay, if in in top condition, perhaps 5% to 10% of the value of its non-reprint cousin.


How can I tell if I have a first USA printing of Harry Potter and the Deathly Hallows?

All USA first printings of Deathly Hallows have a number line on the Copyright page that looks something like "10 9 8 7 6 5 4 3 2 1". If the number line goes down all the way to 1, you have a first printing. If the line stops at a higher number you do not have a first printing even if the phrase First Edition is still present. If you wish to buy a first printing be sure that the number line on the Copyright page goes all the way down to 1. If you are selling a Harry Potter book as a first edition, please list the numbers you see on the Copyright page so the buyer will know what printing they are getting. Collectors are looking for a first printing though they may refer to it as a "First Edition". See picture below: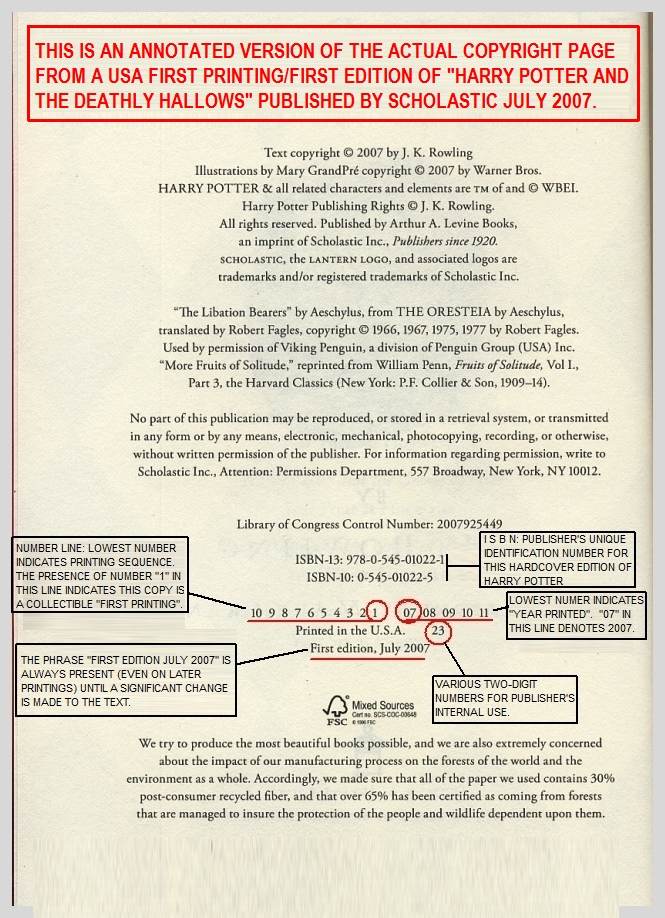 You will also notice in the above picture a number line "07 08 09 10 11"
This number line refers to the year of the printing
---
A Bit About Zane Grey First Editions
Most first editions Zane Grey books were published by Harper's. While there were a few books first printed by other companies, most were from Harper's. If you have a Zane Grey book printed by someone else, chances are that it is not a first edition.
What does Condition of Books mean?
Condition is very important to the value of a book. Here is a brief list from the A. B. Bookmans Grading guide developed in 1949 and in general use by booksellers today.
As New:

No defects, no markings, no library stamps, etc. Dust jacket if one was issued must be immaculate.



Fine:

Approaches As New but not crisp. Again no defects, markings, etc. If dust jacket has any minor damage it must be noted.



Very Good:

A used book that shows small signs of wear, but no tears in binding, pages or dust jacket. Any defects must be noted.



Good:

The average used and worn book, with all pages and leaves present. Any defects must be noted.



Fair:

A worn book that has complete text pages including any maps or plates, but may lack end papers, half title, etc.




What Makes a Book Valuable?


Only an expert can tell you what your book is worth, but the following factors are worth considering - although there are always exceptions:

Condition - obviously, books in good condition are more valuable than their tatty counterparts. That doesn't mean that a battered book is worthless, just not as valuable as a pristine one.
Rarity - if there are thousands of first editions in existence, they'll each be worth less than if there were a mere handful.
Signed Editions - signatures of the author or the illustrator usually make the book more valuable.
Hardback - a hardback book with a dust cover is more valuable than a paperback.
Book Clubs - special prints for book clubs, libraries or the like aren't usually very sought after.
Known Books - if people haven't heard of the book or the author they aren't likely to pay much for it.




Books to Identify First Editions and Help the Book Seller

In the book collecting world, there are exceptions to the exceptions, and many publishers indicated "First Edition" in their own unique way. The following books will arm you with years of knowledge found nowhere else. If you buy, sell or collect books, these should be your first investment.



Pocket Guide to the Identification of First Editions - Sixth Edition

Bill McBride. Paperback 2000 Very useful little book. Book publishers each have their own way of identifying the first edition (or more correctly - first printing ) of any book they produce. This book uses a simplified code system based on the author's experience handling actual first editions.

Points of Issue : A Compendium of Points of Issue of Books by 19th-20th Century Authors. Bill McBride. Paperback 1996. Another pocket-sized companion to the Guide listed above, it's also very useful. This is a list of specific books which have details (points of issue) that determine a first edition .

First Editions : A Guide to Identification- Edward N Zempel (Editor). Hardcover 4th Edition (November 2001). More expensive but much easier to read than the McBride books, this is a compilation of publishers' actual statements about their methods of identifying first editions. Covers nearly 1,700 trade and academic publishers in the US, the UK, Ireland, Canada, Australia and New Zealand. For all bibliophiles.

Book Finds, 3rd Edition: How to Find, Buy, and Sell Used and Rare Books Ian C. Ellis. Paperback 2006. A good first hand account of book buying and book scouting. The author drops a lot of names, but the book is an enjoyable read. "The used and collectible book market divides into three relatively neat categories: reading copy, antiquarian, and modern first edition..."

The Home-Based Bookstore: Start Your Own Business Selling Used Books on Amazon, eBay or Your Own Web Site Steve Weber. Paperback 2005. A super book, one of the best rated books by Amazon readers regarding selling books on-line. A "must have". " ... Selling used books on the Internet is one of the greatest opportunities available to small entrepreneurs today ..."

Official Price Guide to Books, 5th Edition Marie Tedford & Pat Goudey. Paperback 2005. Although used book prices fluctuate, sometimes its good to have a book you can refer to when the computer's not turned on :) " ... This guide prices everything from rare signed first editions of The Wizard of Oz to today's Harry Potter blockbusters. Contains information on popular genres, care and repair, research resources, Internet sites, dealers, and auction houses ... "