How to correctly identify a first USA printing of

Harry Potter and the Deathly Hallows.
All USA first printings of Deathly Hallows has a number line on the Copyright page that looks something like "10 9 8 7 6 5 4 3 2 1". You have a first printing if your number line goes down all the way to 1. If the line stops at a higher number you do not have a first printing even if the phrase First Edition is still present. If you wish to buy a first printing be su
re that the number line on the Copyright page goes all the way down to 1. If you are selling a book as a first edition, please list the numbers you see on the Copyright page so the buyer will know what printing they are getting. Collectors are looking for a first printing though they may refer to it as a "First Edition".

See picture below: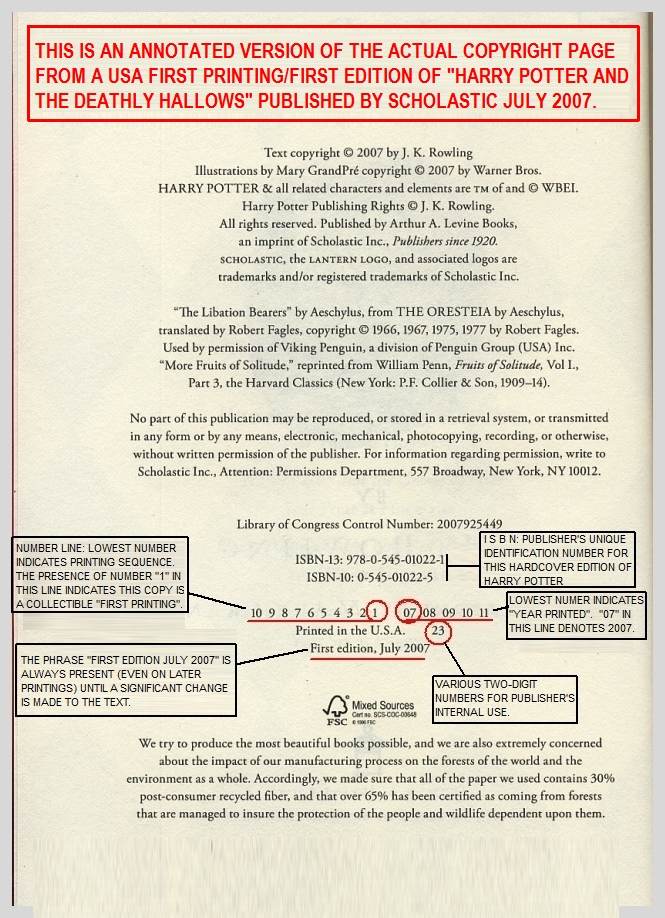 You will also notice in the above picture a number line "07 08 09 10 11". This number line refers to the year of the printing, it does not refer to the first edition sequence. In this case the lowest number 07 refers to the year 2007.

You will also notice in the above picture the phrase "Printed in the U.S. A. 23" The number "23" refers to the printing facility that printed this book, it does not refer to the first edition sequence. Printing facilities numbers appearing on Deathly Hallows books are 12, 23, 37, 40, plus others.

Books to Identify First Editions and Help the Book Seller

In the book collecting world, there are exceptions to the exceptions, and many publishers indicated "First Edition" in their own unique way. The following books will arm you with years of knowledge found nowhere else. If you buy, sell or collect books, these should be your first investment.


Pocket Guide to the Identification of First Editions - Sixth Edition

Bill McBride. Paperback 2000 Very useful little book. Publishers each have their own way of identifying the first edition (or more correctly - first

printing

) of any book they produce. This little book lists most publishers and uses a simplified code system based on the author's experience handling actual first editions.

Points of Issue : A Compendium of Points of Issue of Books by 19th-20th Century Authors. Bill McBride. Paperback 1996. Another pocket-sized companion to the Guide listed above, it's also very useful. This is a list of specific books which have details (points of issue) that determine a first edition .

First Editions : A Guide to Identification- Edward N Zempel (Editor). Hardcover 4th Edition (November 2001). More expensive but much easier to read than the McBride books, this is a compilation of publishers actual statements about their methods of identifying first editions. Covers nearly 1700 trade and academic publishers in the US, the UK, Ireland, Canada, Australia and New Zealand. For all bibliophiles.

Book Finds, 3rd Edition: How to Find, Buy, and Sell Used and Rare Books Ian C. Ellis

. Paperback 2006. A good first hand account of book buying and book scouting. The author drops a lot of names, but the book is an enjoyable read. "The used and collectible book market divides into three relatively neat categories: reading copy, antiquarian, and modern first edition..."



The Home-Based Bookstore: Start Your Own Business Selling Used Books on Amazon, eBay or Your Own Web Site Steve Weber. Paperback 2005. A super book, one of the best rated books by Amazon readers regarding selling books on-line. A "must have".

" ... Selling used books on the Internet is one of the greatest opportunities available to small entrepreneurs today ..."



Official Price Guide to Books, 5th Edition Marie Tedford & Pat Goudey. Paperback 2005. Although used book prices fluctuate, sometimes its good to have a book you can refer to when the computer's not turned on :) "

... This guide prices

everything from rare signed first editions of

The Wizard of Oz

to today's

Harry Potter

blockbusters. Contains information on popular genres, care and repair, research resources, Internet sites, dealers, and auction houses

.